Disciple Up #21
Show Notes, 9-6-2017
By Louie Marsh
There is an old story set in the Middle Ages during the construction of one of the great European cathedrals. A nobleman was walking among the workers, asking about their labors.
The stonemason explained the care involved in raising a plumb wall. The glass worker pointed out the details of a leaded glass window. The carpenter spoke about the wooden frame which provided the support for the whole building.
Finally, the nobleman spotted a peasant woman with a broom and a bucket cleaning up the trash. He asked her what she was doing. She replied, "I'm building a cathedral for the glory of God!"
Our view different – Hub Cap & the Wheels, "Work" = Work, work that dirty word, the dirtiest word I ever heard."
Last year at this time on the Camino.
The following 7 principles that outline God's view of work:
1) God ordained and approves work.
Adam and Eve were given jobs in the  Garden ( Genesis 1).
2) Retirement as we know it isn't in the Bible.
By the sweat of your face you shall eat bread, till you return to the ground – Genesis 3:19
3) Work isn't punishment. 
24  There is nothing better for a person than that he should eat and drink and find enjoyment in his toil. This also, I saw, is from the hand of God, 25  for apart from him who can eat or who can have enjoyment? Ecclesiastes 2:24-25 (ESV)
"Work is so foundational to our makeup that it is one of the few things we can take in significant doses without harm. Indeed, the Bible does not say we should work one day and rest six or that work and rest should be balanced evenly but directs us to the opposite ratio. Leisure and pleasure are great goods, but we can take only so much of them." – Tim Keller
"Read the Bible. Work hard and honestly. And don't complain." – Billy Graham
"Everyone will be forgotten, nothing we do will make any difference, and all good endeavors, even the best, will come to naught. Unless there is God. If the God of the Bible exists, and there is a true reality beneath and behind this one, and this life is not the only life, then every good endeavor, even the simplest ones, pursued in response to God's calling, can matter forever." – Tim Keller
"I never work better than when I am inspired by anger; for when I am angry, I can write, pray, and preach well, for then my whole temperament is quickened, my understanding sharpened, and all mundane vexations and temptations depart." – Martin Luther
When God wanted sponges and oysters He made them and put one on a rock and the other in the mud. When He made man He did not make him to be a sponge or an oyster; He made him with feet and hands, and head and heart, and vital blood, and a place to use them and He said to him, "Go work."" – Henry Ward Beecher
"It is by human avarice or human stupidity, not by the churlishness of nature, that we have poverty and overwork." – C.S. Lewis
"Pray a little more, work a little harder, save, wait, be patient and, most of all, live within our means. That's the American way. It's not spending ourselves into prosperity or taxing ourselves into prosperity." — Mike Huckabee
"Temptations which accompany the working day will be conquered on the basis of the morning breakthrough to God. Decisions, demanded by work, become easier and simpler where they are made not in the fear of men, but only in the sight of God. He wants to give us today the power which we need for our work." – Dietrich Bonhoeffer
 4) Work has Purpose.
It provides money or resources to supply the necessities of life; to provides for a quality of life in the satisfaction of doing a job well; and to serve God.
5) Work requires & builds Christ like character.
22  Bondservants, obey in everything those who are your earthly masters, not by way of eye-service, as people-pleasers, but with sincerity of heart, fearing the Lord. 23  Whatever you do, work heartily, as for the Lord and not for men, 24  knowing that from the Lord you will receive the inheritance as your reward. You are serving the Lord Christ. Colossians 3:22-24 (ESV)
6) A Disciple of Jesus works only for Him.
5  Bondservants, obey your earthly masters with fear and trembling, with a sincere heart, as you would Christ, 6  not by the way of eye-service, as people-pleasers, but as bondservants of Christ, doing the will of God from the heart, 7  rendering service with a good will as to the Lord and not to man, 8  knowing that whatever good anyone does, this he will receive back from the Lord, whether he is a bondservant or is free. Ephesians 6:5-8 (ESV)
7) Work is honorable.
31  So, whether you eat or drink, or whatever you do, do all to the glory of God. 1 Corinthians 10:31 (ESV)
The Disciple Up Low Down On Work
 Please Get In Touch!
Email – louie@discipleup.org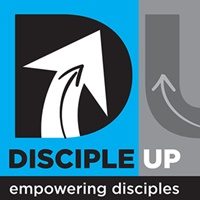 Check out the Disciple Up Facebook page:

My book –