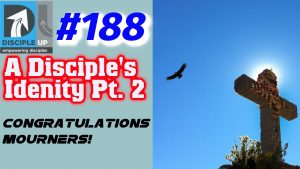 Disciple Up # 188
A Disciple's Identity Pt. 2 – Mourning
By Louie Marsh, 12-2-2020
Intro. First in this series was back in Episode 185. Today we'll continue with part two.
"4"Blessed are those who mourn, for they shall be comforted." (Matthew 5:4, ESV)
I) THE ROCK BOTTOM REALITY
A) Blessed.
1, Can be translated "Happy", but that is misleading, since happiness is a subjective emotion dependent on circumstances
Read More »