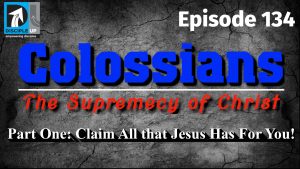 Disciple Up #134 Show Notes
Colossians: The Supremacy of Christ
Introduction: Examine Our Relationship to the Truth
By Louie Marsh, 11-13-2019
 Colossae. Colossae was in Phrygia, where religion was practiced with intensity and sometimes frenzy (e.g., the famous mother-goddess cult of Cybele). There is evidence for a Jewish presence in Phrygia as early as the sixth century b.c.; this Phrygian Judaism seems to have mirrored its culture to a significant extent.
Read More »