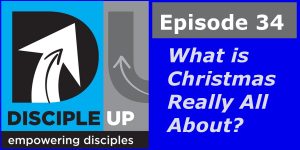 Disciple Up # 34
What Is Christmas Anyway?
By Louie Marsh, 12-6-2017
HISTORY:
The first recorded date of Christmas being celebrated on December 25th was in 336, during the time of the Roman Emperor Constantine (he was the first Christian Roman Emperor). A few years later, Pope Julius I officially declared that the birth of Jesus would be celebrated on the 25th December.
Info from the book Christmas: A Biography,  by Judith Flanders.
Read More »