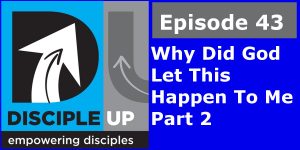 43 Disciple Up Show Notes
Why Did God Let This Happen To Me? Pt. 2
Louie Marsh, 2-14-2018
Why God Allowed My Pain
 3) To Teach Me To trust God more.
 We were under great pressure, far beyond our ability to endure, so that we despaired even of life.  Indeed, in our hearts we felt the sentence of death. But this happened that we might not rely on ourselves but on God, who raises the dead.  2 Cor. 1:8-9
 4) To Give Me a ministry to others.
 You intended to harm me, but God intended it for good  Genesis 50:20
 who comforts us in all our troubles, so that we can comfort those in any trouble with the comfort we ourselves have received from God.  2 Cor. 1:4
Read More »