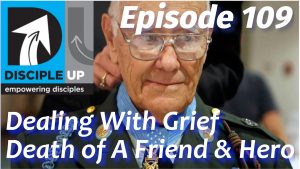 Disciple Up #109
Death of a Friend & A Hero
By Louie Marsh, 5-22-2019
Robert Dale Maxwell was born on Oct. 26, 1920, in Boise, Idaho. He dropped out of school in the seventh grade to help his family run a farm in western Kansas during the Depression.
He entered the Army in July 1940 and joined the Third Infantry Division. He was a "wire man," tasked with stringing telephone lines between his battalion headquarters and front-line troops wherever the fighting happened to be. It was formally a noncombatant role, but bullets and shells might be whizzing over his head while he was atop poles, trees or roofs going about his work.
Read More »