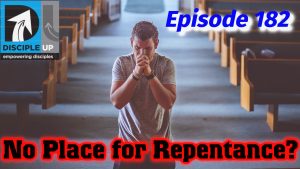 Disciple Up # 182
No Place for Repentance?
By Louie Marsh, 10-21-2020
Intro. Episode on change is going to be a ways off.
Today's episode wasn't planned or wanted actually, but here it is and I feel like we have to deal with it like it or not. We've talked about this in episodes 93, 96 and at least one before 93 but I'm not sure which one.
Also see episodes 97, 98, 99 – Wounded by the Church
Read More »