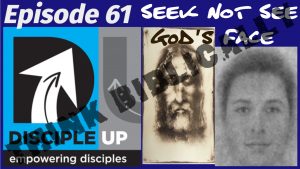 Disciple Up #61
Thinking Biblically, Seek Not See God's Face
By Louie Marsh, 6-20-2018

Intro – My second shot at this due to operator error and a COMMENT rolled in!  Thanks to Caressa, won't mention her last name for privacy.
The articles:
https://www.nbcnews.com/news/us-news/face-god-eye-beholder-researchers-say-n882491
http://journals.plos.org/plosone/article?id=10.1371/journal.pone.0198745
Why would any Christian go along with this charade?
 Is our understanding of the Bible so weak that people don't know or understand something this basic about our faith?
Read More »