Show Notes Disciple Up #23
Is the Reformation a 500 Year Old Failure?
By Louie Marsh
Update on Last Week's Episode – The riots have begun, thanks fake Christian leaders.
http://www.christianitytoday.com/news/2017/august/500-reformation-protestants-catholics-luther-sola-fide-pew.html
After 500 Years, Reformation-Era Divisions Have Lost Much of Their Potency
14 I am under obligation both to Greeks and to barbarians, both to the wise and to the foolish. 15 So I am eager to preach the gospel to you also who are in Rome. 16 For I am not ashamed of the gospel, for it is the power of God for salvation to everyone who believes, to the Jew first and also to the Greek. 17 For in it the righteousness of God is revealed from faith for faith, as it is written, "The righteous shall live by faith." Romans 1:14-17 (ESV)
8 For by grace you have been saved through faith. And this is not your own doing; it is the gift of God, 9 not a result of works, so that no one may boast. 10 For we are his workmanship, created in Christ Jesus for good works, which God prepared beforehand, that we should walk in them. Ephesians 2:8-10 (ESV)
If We Must Work For Forgiveness Why Did Jesus Die on the Cross?
28 for this is my blood of the covenant, which is poured out for many for the forgiveness of sins. Matthew 26:28 (ESV)
7 In him we have redemption through his blood, the forgiveness of sins, in accordance with the riches of God's grace Ephesians 1:7 (NIV)
GOSPEL & OTHER QUOTES
https://www.goodreads.com/author/quotes/847789.Timothy_J_Keller
"The gospel is this: We are more sinful and flawed in ourselves than we ever dared believe, yet at the very same time we are more loved and accepted in Jesus Christ than we ever dared hope."
― Timothy J. Keller, The Meaning of Marriage: Facing the Complexities of Commitment with the Wisdom of God
"…We must say to ourselves something like this: 'Well, when Jesus looked down from the cross, he didn't think "I am giving myself to you because you are so attractive to me." No, he was in agony, and he looked down at us – denying him, abandoning him, and betraying him – and in the greatest act of love in history, he STAYED. He said, "Father, forgive them, they don't know what they are doing." He loved us, not because we were lovely to him, but to make us lovely. That is why I am going to love my spouse.' Speak to your heart like that, and then fulfill the promises you made on your wedding day."
"The gospel of justifying faith means that while Christians are, in themselves still sinful and sinning, yet in Christ, in God's sight, they are accepted and righteous. So we can say that we are more wicked than we ever dared believe, but more loved and accepted in Christ than we ever dared hope — at the very same time. This creates a radical new dynamic for personal growth. It means that the more you see your own flaws and sins, the more precious, electrifying, and amazing God's grace appears to you. But on the other hand, the more aware you are of God's grace and acceptance in Christ, the more able you are to drop your denials and self-defenses and admit the true dimensions and character of your sin."
"The basic premise of religion– that if you live a good life, things will go well for you– is wrong. Jesus was the most morally upright person who ever lived, yet He had a life filled with the experience of poverty, rejection, injustice, and even torture."
"When you listen and read one thinker, you become a clone… two thinkers, you become confused… ten thinkers, you'll begin developing your own voice… two or three hundred thinkers, you become wise and develop your voice."
I Sat Next to Jesus & Other Non-Biblical Sources of Authority
Disciple Up Low Down
Close
Next week – unity in the Body
Please Get In Touch!
Email – louie@discipleup.org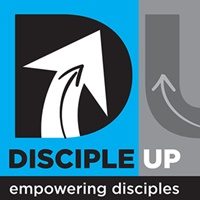 Check out the Disciple Up Facebook page:

My book –