Disciple Up #16
Thinking Things Thru Pt. 2
Suffering
God & Suffering
 How can we believe in a good God in an evil world?
 Either God is all powerful and not good, or he's good and not all powerful.
 Wrong!
God is good and allows evil because he also allows free will.
For God to remove all evil he has to remove it as an actual and a potential. Therefore anything and anyone who is or could cause evil would either be done away with or rendered incapable of doing evil.
God doesn't do that because that would mean the end of the human race. Our answer to evil is destructive and evil itself. That's because of our evil, fallen, nature.
God's answer is painful but loving.
 The real reason God allows evil in the world is because GOD IS LOVE.
 Quotes:
"In spite of sorrow, loss, and pain, our course be onward still; we sow on Burmah's barren plain, we reap on Zion's hill." – Adoniram Judson
https://www.christianquotes.info/quotes-by-topic/quotes-about-suffering/#ixzz4oFIZHRdX
"Whomever the Lord has adopted and deemed worthy of His fellowship ought to prepare themselves for a hard, toilsome, and unquiet life, crammed with very many and various kinds of evil." – John Calvin
https://www.christianquotes.info/quotes-by-topic/quotes-about-suffering/#ixzz4oFJ9l5db
"Any discussion of how pain and suffering fit into God's scheme ultimately leads back to the cross." – Philip Yancey
https://www.christianquotes.info/quotes-by-topic/quotes-about-suffering/#ixzz4oFJW0FN5
"Power, no matter how well-intentioned, tends to cause suffering. Love, being vulnerable, absorbs it. In a point of convergence on a hill called Calvary, God renounced the one for the sake of the other." – Philip Yancey
https://www.christianquotes.info/quotes-by-topic/quotes-about-suffering/#ixzz4oFJdLzaR
"The whole way from Syria to Rome, chained as I am to half a score of soldiers, who only grow more insolent the more bribes they are given. I look forward to the real lions that have been prepared for me. Oh I pray, as I will find them swift. I am going to make overtures to them, so that they may devour me with all speed." – Ignatius, of, Antioch
"A Christian is someone who shares the sufferings of God in the world." –  Bonhoeffer, Dietrich
"God, who foresaw your tribulation, has specially armed you to go through it, not without pain but without stain." –  Lewis, C.S.
Scriptures
3  Not only that, but we rejoice in our sufferings, knowing that suffering produces endurance, 4  and endurance produces character, and character produces hope, 5  and hope does not put us to shame, because God's love has been poured into our hearts through the Holy Spirit who has been given to us. Romans 5:3-5 (ESV)
6  Humble yourselves, therefore, under the mighty hand of God so that at the proper time he may exalt you, 7  casting all your anxieties on him, because he cares for you. 8  Be sober-minded; be watchful. Your adversary the devil prowls around like a roaring lion, seeking someone to devour. 9  Resist him, firm in your faith, knowing that the same kinds of suffering are being experienced by your brotherhood throughout the world. 10  And after you have suffered a little while, the God of all grace, who has called you to his eternal glory in Christ, will himself restore, confirm, strengthen, and establish you. 1 Peter 5:6-10 (ESV)
2  Count it all joy, my brothers, when you meet trials of various kinds, 3  for you know that the testing of your faith produces steadfastness. 4  And let steadfastness have its full effect, that you may be perfect and complete, lacking in nothing. James 1:2-4 (ESV)
19  For this is a gracious thing, when, mindful of God, one endures sorrows while suffering unjustly. 20  For what credit is it if, when you sin and are beaten for it, you endure? But if when you do good and suffer for it you endure, this is a gracious thing in the sight of God. 21  For to this you have been called, because Christ also suffered for you, leaving you an example, so that you might follow in his steps. 22  He committed no sin, neither was deceit found in his mouth. 23  When he was reviled, he did not revile in return; when he suffered, he did not threaten, but continued entrusting himself to him who judges justly. 24  He himself bore our sins in his body on the tree, that we might die to sin and live to righteousness. By his wounds you have been healed. 1 Peter 2:19-24 (ESV)
1  As he passed by, he saw a man blind from birth. 2  And his disciples asked him, "Rabbi, who sinned, this man or his parents, that he was born blind?" 3  Jesus answered, "It was not that this man sinned, or his parents, but that the works of God might be displayed in him. 4  We must work the works of him who sent me while it is day; night is coming, when no one can work. 5  As long as I am in the world, I am the light of the world." John 9:1-5 (ESV)
Further Reading:
The Problem with Pain – CS Lewis
Where is God When It Hurts – Phillip Yancey
The Disciple Up Low Down on Suffering as a Disciple
Please Get In Touch!
Email – louie@discipleup.org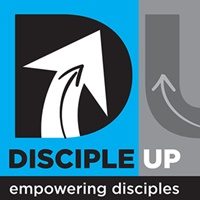 Check out the Disciple Up Facebook page:

My book –