Disciple Up #17 Show Notes
Thinking Things Through #3
Worldview
Definition:
a comprehensive conception or apprehension of the world especially from a specific standpoint —called also weltanschauung.
First Known Use: 1848
Wikipedia  https://en.wikipedia.org/wiki/World_view
 A comprehensive worldview is the fundamental cognitive orientation of an individual or society encompassing the entirety of the individual's or society's knowledge and point of view. A world view can include natural philosophy; fundamental, existential, and normative postulates; or themes, values, emotions, and ethics
It is a concept fundamental to German philosophy and epistemology and refers to a wide world perception. Additionally, it refers to the framework of ideas and beliefs forming a global description through which an individual, group or culture watches and interprets the world and interacts with it.
Worldview remains a confused and confusing concept in English. It is for this reason that Underhill suggests five subcategories: world-perceiving, world-conceiving, cultural mindset, personal world, and perspective (see Underhill 2009, 2011 & 2012).
Worldviews are often taken to operate at a conscious level, directly accessible to articulation and discussion, as opposed to existing at a deeper, pre-conscious level, such as the idea of "ground" in Gestalt psychology and media analysis. However, core worldview beliefs are often deeply rooted, and so are only rarely reflected on by individuals, and are brought to the surface only in moments of crises of faith.
Everyone has a worldview though few could articulate it – like a philosophy of life.
 Most modern worldviews in the West come from multiple sources, most in the 3rd world come primarily from one or two (tribe and religion).
 Ed Stetzer http://www.christianitytoday.com/edstetzer/2009/march/barna-how-many-have-biblical-worldview.html
Barna Research has published the results of a survey that "explored how many [adults] have what might be considered a 'biblical worldview.'" This is a helpful study that will confirm the conclusions many have already drawn – and may surprise some of us as well. What does Barna mean by a "biblical worldview?"
For the purposes of the survey, a "biblical worldview" was defined as believing that absolute moral truth exists; the Bible is totally accurate in all of the principles it teaches; Satan is considered to be a real being or force, not merely symbolic; a person cannot earn their way into Heaven by trying to be good or do good works; Jesus Christ lived a sinless life on earth; and God is the all-knowing, all-powerful creator of the world who still rules the universe today. In the research, anyone who held all of those beliefs was said to have a biblical worldview.
The research indicated that only 9% of all American adults have a biblical worldview as defined above. The Barna study also indicated that a minority of people who describe themselves as "born again" actually share this worldview. So while "they were twice as likely as the average adult to possess a biblical worldview… even among born again Christians, less than one out of every five (19%) had such an outlook on life."
This is a survey Barna has conducted before in 1995, 2000 and 2005. Has the percentage dropped? Are their less or more people who hold to this "biblical worldview" today than a decade ago? Barna says the number have remained the same.
Take note that "less than one-half of one percent of adults in the Mosaic generation – i.e., those aged 18 to 23 – have a biblical worldview, compared to about one out of every nine older adults." Those who are working to share the gospel with the young are finding this out, and it has some serious implications for how we practice evangelism and ministry targeting younger generations.
George Barna points out several implications, He said, There are a several troubling patterns to take notice. First, although most Americans consider themselves to be Christian and say they know the content of the Bible, less than one out of ten Americans demonstrate such knowledge through their actions. Second, the generational pattern suggests that parents are not focused on guiding their children to have a biblical worldview. One of the challenges for parents, though, is that you cannot give what you do not have, and most parents do not possess such a perspective on life. That raises a third challenge, which relates to the job that Christian churches, schools and parachurch ministries are doing in Christian education. Finally, even though a central element of being a Christian is to embrace basic biblical principles and incorporate them into one's worldview, there has been no change in the percentage of adults or even born again adults in the past 13 years regarding the possession of a biblical worldview.
World View Quotes:
https://www.brainyquote.com/quotes/keywords/worldview.html
 If I had a worldview, and I don't know if I do, but if I did, it's one that's intensely humanistic. Eric Kripke
I became a sceptic of one way of seeing the world. And I think it is what started me in my awareness that any worldview is superstitious. Ben Okri
Few people seem to realize that the resurrection of Jesus is the cornerstone to a worldview that provides the perspective to all of life. Josh McDowell
Marxism is a revolutionary worldview that must always struggle for new revelations. Rosa Luxemburg
Visit a typical science classroom and you will discover far more than empirical facts being taught. The dominant worldview among scientific intellectuals is evolutionary naturalism, which holds that humans are essentially biochemical machines. Nancy Pearcey
I had a somewhat religious upbringing. Not strict, but it was there, and I'm kind of thankful for that. If you grow up just watching MTV, that's its own form of religion, and it's not even based on happiness or communal responsibility. I mean, try to construct a worldview out of that. Win Butler
I don't know if people are born with a worldview or if their thinking is a product of their environment. Dana Perino
World View & Scripture
Key Concept: Worldview is more caught than taught.
9  What you have learned and received and heard and seen in me—practice these things, and the God of peace will be with you. Philippians 4:9 (ESV)
But must be taught as well:
 19  Therefore go and make disciples of all nations, baptizing them in the name of the Father and of the Son and of the Holy Spirit, 20  and teaching them to obey everything I have commanded you. And surely I am with you always, to the very end of the age." Matthew 28:19-20 (NIV)
 1  Therefore, I urge you, brothers, in view of God's mercy, to offer your bodies as living sacrifices, holy and pleasing to God–this is your spiritual act of worship. 2  Do not conform any longer to the pattern of this world, but be transformed by the renewing of your mind. Then you will be able to test and approve what God's will is–his good, pleasing and perfect will. 3  For by the grace given me I say to every one of you: Do not think of yourself more highly than you ought, but rather think of yourself with sober judgment, in accordance with the measure of faith God has given you. Romans 12:1-3 (NIV)
15  Do not love the world or the things in the world. If anyone loves the world, the love of the Father is not in him. 16  For all that is in the world—the desires of the flesh and the desires of the eyes and pride of life—is not from the Father but is from the world. 17  And the world is passing away along with its desires, but whoever does the will of God abides forever. 1 John 2:15-17 (ESV)
 1  You then, my son, be strong in the grace that is in Christ Jesus. 2  And the things you have heard me say in the presence of many witnesses entrust to reliable men who will also be qualified to teach others. 2 Timothy 2:1-2 (NIV)
The Disciple Up Low Down On Trusting the World & Losing Our Vision
Post Template for Disciple Up
 Please Get In Touch!
Email – louie@discipleup.org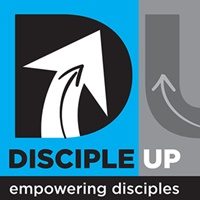 Check out the Disciple Up Facebook page:

My book –