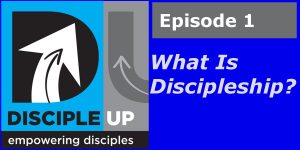 Main Discussion, Pt. 1:
DISCIPLE
The word is found in the Bible only in the Gospels and Acts.
In all cases it implies that the person not only accepts the views of the teacher, but that he is also in practice an adherent. A disciple is a "follower," someone who adheres completely to the teachings of another, making them his rule of life and conduct.
Incredible Quotes
G.K. Chesterton –
"Religious liberty might be supposed to mean that everybody is free to discuss religion. In practice it means that hardly anybody is allowed to mention it." – Autobiography, 1937
"There are only two kinds of people, those who accept dogmas and know it, and those who accept dogmas and don't know it."
"Moderns have not the moral courage, as a rule, to avow the sincere spiritual bias behind their fads; they become insincere even about their sincerity. Most modern liberality consists of finding irreligious excuses for religious bigotry. The earlier type of bigot pretended to be more religious than he really was. The later type pretends to be less religious than he really is. He does not wear a mask of piety, but rather a mask of impiety – or, at any rate, of indifference."
His books on Amazon 
About me – background – education, ministry.
I've been blessed to do a lot of overseas work, particularly in Myanmar but also Thailand, Malawi, Cambodia, and many other places.
My Father was a Marine Raider in World War Two and I have been active in the Association for many years. I'm currently on the board, the Chaplain etc. Here's his webpage.
I am the Senior Pastor of Christ's Church on the River in Parker Arizona & an blessed to work in this community, with a fantastic Associate Pastor, and enjoy the place God has called me to live.
Promos –
Go to the FaceBook page .
SUBSCRIBE on iTunes and others.
Guilty By Association (Meltdown, 1984)
So you need a new car?
Let your fingers take a walk
Through the business guide
For the "born again" flock
You'll be keeping all your money
In the kingdom now
And you'll only drink milk
From a Christian cow
Don't you go casting your bread
To keep the heathen well-fed
Line Christian pockets instead
Avoid temptation
Guilty by association
Steve Taylor music page on Amazon:
Closing
Disciple Up will God willing, publish an episode every week covering different areas of concern to Disciples of Jesus. If that's important to you then please subscribe on iTunes, Google or another of the many other podcast aggregators available to you.
If you'd like to get in touch please e-mail Louie at Louie@discipleup.org.