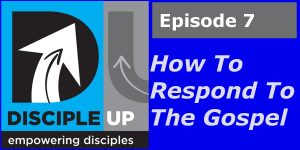 Disciple Up #7
How To Respond to the Gospel
By Louie Marsh
How To Establish A Spiritual B.A.S.I.S. for Living
 B = Believe Jesus died on the Cross for me and showed He was God by coming back to life again.
By this gospel you are saved, if you hold firmly to the word I preached to you. Otherwise, you have believed in vain.  For what I received I passed on to you as of first importance: that Christ died for our sins according to the Scriptures,  that he was buried, that he was raised on the third day according to the Scriptures,  (1 Cor. 15:2-4)
A = Accept Christ as Lord of My life and His free forgiveness of my sins.
Yet to all who received him, to those who believed in his name, he gave the right to become children of God–  (John 1:12)
In him we have redemption through his blood, the forgiveness of sins, in accordance with the riches of God's grace  (Eph. 1:7)
Billy Graham Quotes:
"It is the Holy Spirit's job to convict, God's job to judge and my job to love."
"God proved his love on the Cross. When Christ hung, and bled, and died, it was God saying to the world, 'I love you.'"
"Courage is contagious. When a brave man takes a stand, the spines of others are often stiffened."
"Sin is the second most powerful force in the universe, for it sent Jesus to the cross. Only one force is greater—the love of God."
"Being a Christian is more than just an instantaneous conversion – it is a daily process whereby you grow to be more and more like Christ."
"When we come to the end of ourselves, we come to the beginning of God."
"The message I preach hasn't changed. Circumstances have changed. Problems have changed, but deep inside man has not changed, and the gospel hasn't changed."
How To Respond to the Gospel, Pt. 2
S = Switch to God's Plan for my life.
"The time has come," he said. "The kingdom of God is near. Repent and believe the good news!"  (Mark 1:15)
 I = Inform others of your decision.
That if you confess with your mouth, "Jesus is Lord," and believe in your heart that God raised him from the dead, you will be saved.  (Romans 10:9)
 S = Submerge yourself in Christ.
You are all sons of God through faith in Christ Jesus,  for all of you who were baptized into Christ have clothed yourselves with Christ.  (Galatians 3:26-27)
Look at the chart below to see how often these important factors are mentioned in the book of Acts as Luke, guided and inspired by the Holy Spirit, recorded the major or historically noteworthy conversions in the early history of the church.
Conversion Chart From the Book of Acts
Heard
Believed
Repented
Confessed
Baptized
Saved
Pentecost

2:22-41

Vs. 37
Vs. 38
 
Vs. 38.41
Vs. 41
Samaria

8:4-15

Vs. 12
 
 
Vs. 12-13
 
Eunuch

8:26-39

Vs. 36
 
 
Vs. 38
Vs. 39
Saul

9:1-9

22:10
 
 
Vs. 18
22:16
Cornelius

10:1-48

Vs. 43
11:18
 
Vs. 48
11:1
Lydia

16:13-15

Vs. 14-15
 
 
Vs. 15
 
The Jailer

16:25-34

Vs. 31,34
Vs. 30
Vs. 30
Vs. 33
Vs. 34
Disciple Up Low Down On Effective Communication of the Gospel
Wrap Up:
 Please let me know what you think of the show, comment on our FaceBook page. Also what kind of issues would you like to see me address in the future? Bible questions? Cultural questions?  Just make sure it's not dealing with politics or prophecy because those are two things Disciple Up isn't really about (but I will be dealing with them a bit further down the road. So stay tuned for that!)
Email – louie@discipleup.org
Subscribe on iTunes
Subscribe on Google
Check out our Facebook page!