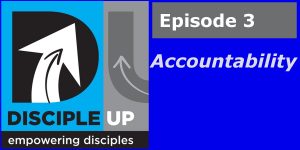 Levels of accountability 
To God
To ourselves
To an intimate few Eccl. 4:9-12
To the community of faith
Accountable to govt.
1  Let every person be subject to the governing authorities. For there is no authority except from God, and those that exist have been instituted by God…6  For because of this you also pay taxes, for the authorities are ministers of God, attending to this very thing. 7  Pay to all what is owed to them: taxes to whom taxes are owed, revenue to whom revenue is owed, respect to whom respect is owed, honor to whom honor is owed. Romans 13:1,6-7 (ESV)
God holds us accountable, this is Personal accountability. 
10  Why do you pass judgment on your brother? Or you, why do you despise your brother? For we will all stand before the judgment seat of God; 11  for it is written, "As I live, says the Lord, every knee shall bow to me, and every tongue shall confess to God." 12  So then each of us will give an account of himself to God. Romans 14:10-12 (ESV)
Christians are also accountable to one another.
1  Brothers, if anyone is caught in any transgression, you who are spiritual should restore him in a spirit of gentleness. Keep watch on yourself, lest you too be tempted. 2  Bear one another's burdens, and so fulfill the law of Christ. Galatians 6:1-2 (ESV)
24  And let us consider how to stir up one another to love and good works, 25  not neglecting to meet together, as is the habit of some, but encouraging one another, and all the more as you see the Day drawing near. Hebrews 10:24-25 (ESV)
16  Therefore, confess your sins to one another and pray for one another, that you may be healed. The prayer of a righteous person has great power as it is working. James 5:16 (ESV)
Cool Quotes – Chuck Smith
Look, don't judge Christianity by the imperfect examples that we have seen in history. Judge it by Jesus Christ.
God will allow us to follow self-help, self-improvement programs until we have tried them all, until we finally come to the honest confession, 'I can't do it. I can't be righteous in my own strength!' It is then, when we admit our utter powerlessness, that we find hope. For it is then when the Lord intervenes to do a work that we could not do for ourselves.
Though prayer doesn't change God's mind or God's purposes, prayer does change something- It changes us.
Prayer does not change the purpose of God. But prayer does change the action of God.
Our heart is like a reservoir from which our lives flow.
For more go to AZquotes.com and search for Chuck Smith.
More on Accountability
To establish Christian accountability, there needs to be trust. Developing trust is a slow process and it takes time to develop and grow. As people meet together to share, they begin to establish a rapport with one another. How is this accomplished? Let's see what the Bible says.
Active listening is essential to developing trust. James 1:19 says, "My dear brothers, take note of this: Everyone should be quick to listen, slow to speak and slow to become angry."
A non-judgmental attitude is another essential element. Remember, we can be accepting of an individual while being discerning of the situation. Matthew 7:1-2 says, "Do not judge, or you too will be judged. For in the same way you judge others, you will be judged, and with the measure you use, it will be measured to you."
Caring for each other is also essential. 1 John 4:21 says, "And he has given us this command: Whoever loves God must also love his brother."
Accountability involves a willingness to open yourself up and share sensitive or personal information. This is why trust is so imperative. If you sense trust, you are more open to share your innermost thoughts without concern of betrayal.
Closing Remarks
Subscribe on iTunes or Google