Disciple Up #`102
Life Lessons From Jeremiah – Faith Comes From the Heart
By Louie Marsh, 4-3-2019
John Stott's book on the Sermon on the Mount that I mentioned last week but failed to put the URL up for:
https://amzn.to/2UgbPr2
TEACH THAT GOD WANTS OUR FAITH TO COME FROM THE HEART:
Thus says the LORD: "Let not the wise man boast in his wisdom, let not the mighty man boast in his might, let not the rich man boast in his riches, but let him who boasts boast in this, that he understands and knows me, that I am the LORD who practices steadfast love, justice, and righteousness in the earth. For in these things I delight, declares the LORD." "Behold, the days are coming, declares the LORD, when I will punish all those who are circumcised merely in the flesh— Egypt, Judah, Edom, the sons of Ammon, Moab, and all who dwell in the desert who cut the corners of their hair, for all these nations are uncircumcised, and all the house of Israel are uncircumcised in heart." Jeremiah 9:23-26 (ESV)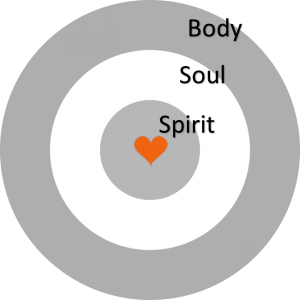 HOLD LEADERSHIP TO HIGH STANDARDS –FAITH OF THE HEART:
Woe is me because of my hurt! My wound is grievous. But I said, "Truly this is an affliction, and I must bear it." My tent is destroyed, and all my cords are broken; my children have gone from me, and they are not; there is no one to spread my tent again and to set up my curtains. For the shepherds are stupid and do not inquire of the LORD; therefore they have not prospered, and all their flock is scattered. A voice, a rumor! Behold, it comes!— a great commotion out of the north country to make the cities of Judah a desolation, a lair of jackals. I know, O LORD, that the way of man is not in himself, that it is not in man who walks to direct his steps. Correct me, O LORD, but in justice; not in your anger, lest you bring me to nothing. Jeremiah 10:19-24 (ESV)
But if from there you seek the Lord your God, you will find him if you look for him with all your heart and with all your soul. Deut. 4:29
Acknowledge and take to heart this day that the Lord is God in heaven above and on the earth below. There is no other. Deut. 4:39
Love the Lord your God with all your heart and with all your soul and with all your strength. Deut. 6:5
Watch over your heart with all diligence, For from it flow the springs of life. Proverbs 4:23
Many are the plans in a man's heart, but it is the Lord's purpose that prevails.  Proverbs 19:21
My heart is set on keeping your decrees to the very end.  Psalm 119:112
I run in the path of your commands, for you have set my heart free.  Psalm 119:32
I will give them an undivided heart and put a new spirit in them; I will remove from them their heart of stone and give them a heart of flesh.  Ezekiel 11:19
I pray also that the eyes of your heart may be enlightened in order that you may know the hope to which he has called you, the riches of his glorious inheritance in the saints, Eph. 1:18
But the Lord said to Samuel, "Do not consider his appearance or his height, for I have rejected him. The Lord does not look at the things man looks at. Man looks at the outward appearance, but the Lord looks at the heart." 1 Samuel 16:7
The sacrifices of God are a broken spirit; a broken and contrite heart, O God, you will not despise.  Psalm 51:17
Dear friends, if our hearts do not condemn us, we have confidence before God 1 John 3:21
RESEARCH ASSIGNMENT: Dwight L. Moody Said? Or maybe not?
TEACH THE NEW COVENANT WE HAVE IN CHRIST – LIVING HIS WORD
The word that came to Jeremiah from the LORD: "Hear the words of this covenant, and speak to the men of Judah and the inhabitants of Jerusalem. You shall say to them, Thus says the LORD, the God of Israel: Cursed be the man who does not hear the words of this covenant
that I commanded your fathers when I brought them out of the land of Egypt, from the iron furnace, saying, Listen to my voice, and do all that I command you. So shall you be my people, and I will be your God, that I may confirm the oath that I swore to your fathers, to give them a land flowing with milk and honey, as at this day." Then I answered, "So be it, LORD."
And the LORD said to me, "Proclaim all these words in the cities of Judah and in the streets of Jerusalem: Hear the words of this covenant and do them. For I solemnly warned your fathers when I brought them up out of the land of Egypt, warning them persistently, even to this day, saying, Obey my voice. Yet they did not obey or incline their ear, but everyone walked in the stubbornness of his evil heart. Therefore I brought upon them all the words of this covenant, which I commanded them to do, but they did not." Jeremiah 11:1-8 (ESV)
 Please Get In Touch!
Email – louie@discipleup.org







Check out the Disciple Up Facebook page:

My books –